Austin, Texas.
As the years of my life accumulate, I have found that traveling has taken on a new role. I am blessed (and cursed) to have friends scattered throughout the world. While it makes everyday life a little gloomy because I want them all around me...all the time, it also makes traveling that much happier because I often go to visit one of them. It's definitely a two-birds-one-stone kind of situation. For New Year's this year, I headed south to the Republic of Texas to visit my cousin in Austin and to see what the hype was all about. For the past six months, Austin has been a consistent topic of conversation among my friends. Even my parents rave about the afternoon they spent in Austin. Plus, it was pretty cold around these parts at the start of 2014, so going south sounded like the best idea.
The first thing I should tell you about Austin is that it is NOT a touristy town. Sure, there are some sights to see and guidebooks have been written about it, but when I asked my cousin what we should do in Austin, he shrugged and responded, "Honestly, I would just hit up all the cool bars and restaurants." Because if Austin does one thing right, it's consumption: consumption of food, drinks, and music.
Let's start with the first: food. One of the strikingly unique characteristics of Austin is the massive amount of food carts. They're everywhere! And in the most random places! Food trucks are often seen in highly public places like near stadiums and other attractions, but in Austin they pop up all over. Unfortunately we did not eat at any of the food carts but here's a guide for all of them. The places we chose to dine at were equally fantastic though. One area that was chock-full of delicious eateries was in SoCo down on South Congress (a main road of downtown Austin). Home to Hopdoddy Burger Bar, where the line reaches around to the back of the building, the South Congress area is a refuge for the hungry. We chose to eat at Docs because of the superb patio seating and shorter waiting time (we were starving!). Docs had a great laid back atmosphere but served up some mean grub. My friend got their Chicken Fried Avocado and was pleased enough to devoured the whole thing. Another food spot worth mentioning is Barlata; a tapas bar near to SoCo. If you're looking to splurge on a delicious tapas dinner, this is your place. You'll have to be willing to pay up if you want to leave full, but each bite of food will simply melt in your mouth.
Now let's move straight along to drinks, which are inevitably tied to music. There is a famous stretch of downtown Austin that gets shut down each weekend for partygoers to lose their inhibitions even more. Sixth Street in Austin is that stretch. The couple blocks on which solely bars and the occasional ATM reside is the place to be on the weekends. Students from the University make their way down to mingle with the young professionals that have taken over the city. Most bars feature live music from wildly talented local musicians that have given Austin is title as the Nashville of Texas.
A hop-and-a-skip away is another great going-out spot with a slightly more hipster feel. Rainey Street is a collection of little houses that are actually bars. The atmosphere is a touch more laid back than Sixth Street, but hipsters can get rowdy too! If you go a bit earlier, you can even eat at one of the famous food carts that are in the area.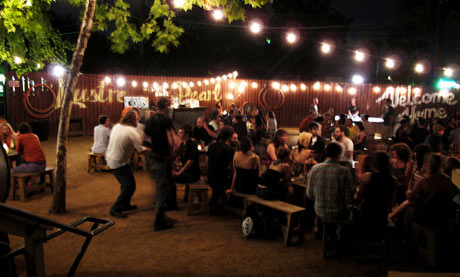 To fill the times in between eating and drinking, walk around one of Austin's many- and beautiful- parks. Another popular spot to visit is the state capitol. Apparently it is bigger than the U.S. Capitol building in Washington D.C., but I think it's just another Texas legend. Austin is a fantastic place to spend a long weekend, especially if you're in need of a little vitamin D during the long Michigan winter.