The Fall Menswear Uniform
As the first couple weeks of the new school year wind down, I'm here to drop a little knowledge on the Fall uniform you should be familiar with when weather is between scorching heat and polar vortex. I'm bringing you a uniform that works for just about every fall event on and off-campus, and won't do mad numbers on your wallet either. This is a go-to outfit of mine that I believe is a great starting spot for any budding style connoisseur, as well as those college menswear addicts who are seeking a timeless day-to-day fit. It's about as basic as an outfit gets - yet it's all about fit, functionality, and classic menswear that is sure to set your school year off right.
I'm going to begin with the most important part of the outfit. Listen to me when I tell you, a decent pair of raw/selvedge denim is an investment that you won't regret! This pair of Japanese selvedge denim from Gap is an excellent starting spot for those just entering the realm of selvedge denim, and also competitively priced for the college student budget. Coming in at $108 dollars this is the most expensive piece in your Fall uniform, but let me say from first-hand experience, you'll wear these for years to come. Put these on mid-September and don't take them off until the snow melts, they're worth it.
Next, I want to introduce some inexpensive tees that provide a perfect fit, wash and of course, price. At $15 dollars a piece, these Everlane "Cotton Crew" tees can't be beat. Compartively, the quality you are receiving here is a $45 dollar value from a competitor. That being said, buy 3, with pockets, or without, and have one of these ready to go multiple days a week.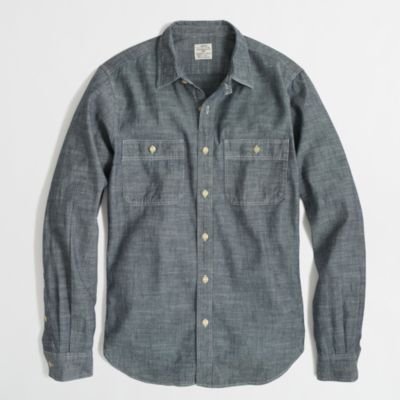 Of course, I need to incorporate a piece from the affordable American menswear king, J.Crew. Man, these J.Crew Factory Chambray shirts are a must! You need at least one of these in your closet, I'm staring at 3 right now because I'm a menswear nerd, and stay in on weekends checking out Spring 2015 lookbooks and worshiping hemlines, but that's beside the point. Made of ultra comfortable, breathable materials, pick one of these up to wear in the transition from summer to winter months.
I'm keeping this outfit as simple as possible to give you the opportunity to expand on it and flourish as you feel so inclined, so lastly, I'm throwing in some footwear from a brand that is making MOVES right now in the menswear world.
Greats Footwear provides three sneakers that are all you need in your arsenal until boot weather moves in. The Bab is a lightweight summer time, sportswear inspired sneaker that gives you versatility to wear it with just about any outfit you put together. At $58 dollars and a wide variety of colorways there's no arguing with Greats on that price!
Next is The Wilson which re-released recently in 5 colorways, all of which are classics colors for a sneaker with a classic look. The third pair is a insanely priced Italian leather sneaker, called The Royale. This sneaker is the definition of "ballin' on a budget." It doesn't get better than an Italian leather sneaker, crafted alongside several luxury footwear brands in the "Shoe Valley" of Italy, for $158 dollars. I recommend the "Triple Black" pair for fall to complete this outfit.
There they are - the tools for the perfect Fall uniform. Not only will this outfit pay dividends this year, but you'll be able to rotate all of these pieces into your wardrobe for years to come. Pick this outfit up today, and don't look back, my friend, you're on your way to the top of the menswear class!