Must-Have Swimsuits for 2015
There's something exciting about the approach of summer. The thrill of knowing that in just a few short months you can dig out your favorite shorts, sundresses, and wedges from the back of your closet. The fun and bright colors of summer bring along a boost of energy and happiness with their frilly and exciting patterns. Clothes allow you to express yourself, to be whoever you may want to be, so why not do the same with your swimwear? It may feel as if there's only one true option when deciding what to wear to the beach, water park, or lake, but in reality there are styles to suit any personality, body type, or taste. Get your creative juices flowing and get your credit card out because the following swimsuits are sure to leave you itching for an online shopping spree. Here's to looking, obsessing, and splurging. You've probably already seen these bikini's pop up on your Pinterest feeds at least ten times by now. Triangl's bright and fun suits are the perfect mix of sporty and sexy, and are fitting for any occasion. In addition, the bright colors of all their suits are especially helpful in illuminating your tan!
Here's a new trend! The wrap bikini. This perfectly adjustable top will be sure to flatter your body in every way. This type of top is a simple upgrade from the regular triangle-shaped bikini, but it is sure to wow and create the extra touch of femininity and originality. L*Space carries some affordable and super cute wrap tops in a variety of colors.
For those that want to keep the sexy touch with a bikini but prefer a little more coverage on top, the crop top bikini may be your perfect match. This ultra-fashionable piece is the perfect thing to wear to the beach, but the extra coverage allows for some extra protection and control for your athletic side when tubing or enjoying a spin on the jet ski. ASOS has a number of fun tops that range from sexy cutouts to sporty tops.
The one piece has never gone out of style. The timeless swimsuit is always sure to please, and it flatters every body type. Try to fit in the newer trends of mesh swimsuits to create a very chic and stylish look. If you would like to go for something a little more revealing, follow the cutout trends and show some more skin in your one piece.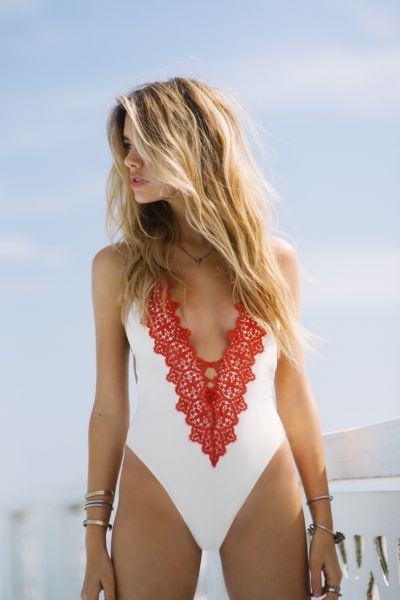 With so many fun styles finding their way into the stores this summer, take a chance and try out some new styles. You may be surprised with what flatters your body!